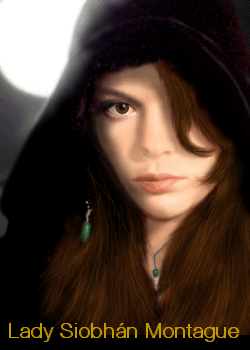 Siobhan returned home quickly, leaving her brother at the Tea House along the way. She had poured herself a glass of sweet wine from Dalton before checking in with her staff. A bath was drawn for her on her orders before she went to her room and disrobed. Usually a woman in her standing would have a maidservant help her undress and bathe...but she was usually a private person especially when she had hidden weapons across her body. She donned a pink silk robe and headed for the bathing chambers. Which was why she didn't get the door for Gilead. Instead, her maidservant answered the door.
Sophia was a 21 year old girl who was born and bred in Cor Cathair. She was not a thin girl with curvy hips and a small waist. Her hair was honeybrown and her eyes were a soft, pale green. She was the middle child of seven and was always trying to please her Lord and Lady. Especially Lady Montague, whom she trusted dearly. Lady Montague had set aside moneys to help her with furthering her education. Sophia wanted to learn more on tailoring dresses...she loved the idea of making gowns. She knew it was so much more than just cross stitching and hemming...she wanted to learn it all. The lady of the house had much trust in Sophia who was hired when she was just twelve. She learned how to fold towels until she was an expert then. Now she knew the Lady of the house so well that Siobhan would have a hard time finding such good help.
The door opened and she saw Mister Guillaume standing there. She smiled and held the door open for him for it wasn't the first time he called for the Montagues at such a late hour.
"Good evening, sir. The Lord is not home at this time though the lady is headed for a bath at this time. If you wish, you can wait in the smoking room...unless you are in a rush. The lady has always told me you sometimes have urgent business to speak of and I am to take you to her, or her brother, immediately...so...please follow me."
Sophia turned and her hips repeated follow me.