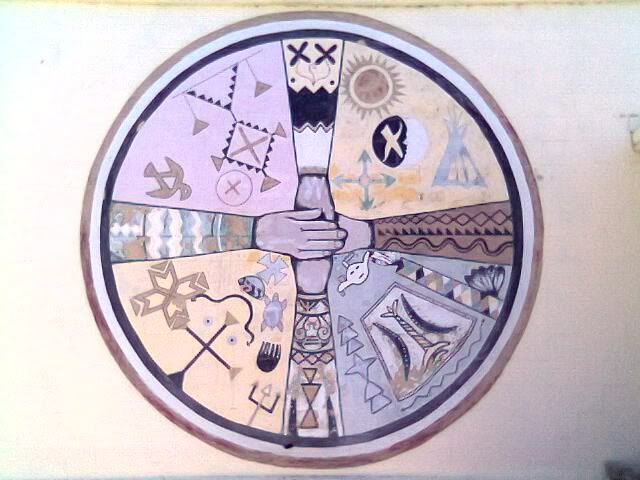 DQU community
Immediate Call to Action
December 7, 2007
PRESS RELEASE
Saturday December 15, 2007, march/rally preceding open board of trustees meeting for DQ-University.
Students representing colleges and universities from across California and international organizations are gathering in solidarity to express the importance of the continued reaccredidation and revitalization of California's only tribal college, DEGANAWIDAH QUETZACOATL UNIVERSITY. A march/rally is planned.
The solidarity march and rally will form at Safeway parking lot in Davis, CA, address: W. Covell and freeway 113 at 7:00am. The march will begin promptly at 7:30am and proceed west on county road 31 to the DQ University campus. After arriving at DQ University a rally will be held, preceding the open board of trustees meeting at 10am in the administrative building.
Since starting the revitalization process in 2005, students have remained on campus living through community support and have been able to organize workshops and classes based in Native Philosophy and Cultural Revitalization. They are committed to the pursuit of an indigenous education while working towards the future as they honor the past.
In 1970, groups of Native Americans and Chicana/o students from several universities and colleges organized themselves to lay claim to a decommissioned military installation. Their goal was to create a learning environment through the unified cultures of the indigenous peoples of the Americas. As students and members of the community we feel it is our responsibility to ensure a positive future for DQ University. Currently there are two petitions in circulation with this positive goal in mind.
Along with the community, student organizations such as Natives Empowered through Unity and Education, Movimiento Estudiantil Chicana/o de Aztlan, and American Indian Movement-west, all of which consist of thousands of members, along with others, have pledged their support in raising awareness and involvement in the revitalization process. The next step is to increase inter-tribal, inter-organizational participation in the academic restructuring and administrative accountability of DQU.
The students are asking for your continued support in our struggle to give the indigenous peoples an opportunity to unify, strengthen and be educated, thus allowing the original vision of DEGANAWIDAH QUETZACOATL UNIVERSITY to thrive.
Contact:
Greg Iron 916-203-5619
Christal West(M.E.Ch.A.) 916-289-3984
Chris Yazzie yazzieyazzie@yahoo.com