Oct 25th was ONLY 1 week ago. The REST of us have normal lives - work, families, church, etc. You, on the other hand, have NOTHING but political time on your hands. POLITICS is YOUR "religion".

Any copyrighted work in this posting is freely distributed via the internet, with permission from the author; *OR*, in accordance with Title 17 U.S.C. Section 107, any copyrighted work in this message is distributed under fair use, without profit or payment, for non-profit research and/or educational purposes only.
I have never understood why it is greed to want to keep the money you have earned but not greed to want to take somebody else's money.  Thomas Sowell
"Mercy to the guilty is cruelty to the innocent" - Scotsman Adam Smith - 1759
A GUN IN THE HANDS OF A LAW ABIDING CITIZEN IS A MORE EFFECTIVE DETERRENT THAN 100 COPS "ON THE WAY"!!
POLITICALLY INCORRECT, AND *PROUD* OF IT!!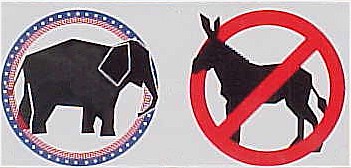 The lies of the left, liberals, and Democrats, is so extensive, that their words, and their minds, are more twisted than a sack full of mobius strips. - Dave_in_NH.


"Liberalism results from a genetic brain disorder." - Dave_in_NH.

"Emotions make for bad laws!" - Dave_in_NH.

\u201CThe most terrifying words in the English language are: \u2018I\u2019m from the government, and I\u2019m here to help you.\u2019" - Ronald Reagan.