Welcome
Welcome
Welcome to the home of Minden Playing Card Cricket on Delphi Forums.
In 2021 Minden Playing Card Cricket 5th Edition turns 10, adding a new milestone to the statistically accurate replay cricket board game that has been published for more than 35 years.
To celebrate we are releasing a host of new Playing Card sets, starting with the following sets which are now available and free to all owners of the game:
There are 417 Players included in these sets which will be FREE until the end of 2021 and are available on
mindencricket.com
as downloadable PDFs.
Recent other sets that have been published and are now available are:
Career Cards - Decade Set - 2000s - 281 Players who have played 5 or more Tests. This set ensures all players from 2000 through to the end of 2020 now have Advanced Player Cards
Classic Series - Pakistan vs West Indies in 1988 - the first in a series of classic clashes between Test teams at the height of their powers
The All Time Great XIs - based on Cricinfo's selection of the best XI for eight of the Test Playing nations

2019 - The Arrival of Jofra
2017/18 - Look Away Now England
2015 - Third Time's a Charm
2013/14 - The Fightback
2013 - The "Warm Up" Series
2010/11 - England Dominates
2009 - A Gripping Summer
2006/07 - Farewell to Two Greats
2005 - The Greatest Series!
1981 - Riots, Thatcher and Botham
1977 - Before the Packer Circus
1975 - Lillee and Thomo!
1948 - Tour Pack
1932/33 - The Bodyline Series
We plan to add more Ashes Series, and have a range of Classic Series sets in development with complete tour itineraries, new pitch cards, and more.
You can find out more and purchase one of the many sets of Advanced Player cards by visiting
mindencricket.com
NEW - The All Time Great XIs Career Advanced Cards are now available!
8 nations
88 Players
From Trumper to Tendulkar
Pit the best against the best now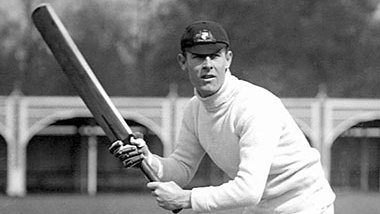 The superlative VT Trumper features amongst the best XI Australians
of all time in the new Minden Playing Card Cricket All Time Great
Advanced Player Card Set. Image from Wikipedia.