Welcome
Welcome!
This is a discussion board about
Natural Family Planning
as approved by the Catholic Church
.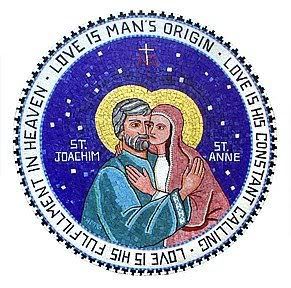 Saints Joachim and Anne, pray for us!
O Good and merciful Saint Anne and Saint Joachim,
in order to honour you with more zeal,
and pray to you with more confidence,
we come to consecrate the NFP Board Community to you,
for time and for eternity.
Hence we choose you, after the most Blessed Virgin,
for our spiritual mother and father, and our protectors before God.
We place in your keep our temporal needs, and our eternal interests.
We look to your example as faithful spouses and parents to pray for us and for our families.

We consecrate our minds to you, our thoughts and our words,
that you may enlighten us in all things, with the light of faith;
our hearts, that you may keep them full of love for Jesus and Mary,
and for one another;
our wills, that you may forever keep us submissive to the will of God;
and our bodies, that you may help us make them forever
the temples of the Holy Spirit and help us resist the temptation of sin.

Obtain for us, O Good Saint Anne and Good Saint Joachim,
the grace to fulfill faithfully, after your example,
all the duties of our states of life and to practice, like you,
all the virtues necessary to our salvation.
Grant that after having honoured and loved you on earth,
O dear and Good Saint Anne and Saint Joachim,
We may one day go to glorify you,
with God, Mary, the saints and the angels, during all eternity.
Amen.

---

Make your Amazon purchases through this link <SCRIPT charset="utf-8" type="text/javascript" src="http://ws.amazon.com/widgets/q?rt=tf_sw&ServiceVersion=20070822&MarketPlace=US&ID=V20070822/US/nfptalk-20/8002/c625756e-5877-4c40-a39d-46bd73d5ed4d"> </SCRIPT> and make an automatic donation to the NFP Board Helping Hands Fund!
It costs you nothing to give a Helping Hand.

Canadians, use the link found here for Amazon. In the UK, here is the link for Amazon.
---
In loving memory of our dear friend, Shelly
k

---
Our second cookbook is available here!
All proceeds benefit the Helping Hands Fund.


Our first cookbook is also still available 
here
.
Cranberry Apple Bread
(see second board cookbook for recipe!)
---
The Wombat: Our Official NFP Board Mascot
---
Please join in the discussion!
This is a Catholic message board, yet all are welcome to post here. However, anti-Catholic remarks or debates will not be tolerated. The official viewpoint of this board is faithful to Catholic teaching.
For more online info on specific NFP providers, please visit the following sites:
We encourage questions about NFP, and the Catholic faith, but will not tolerate insults, rudeness, or deliberate misinformation in general, and about these matters in particular.

After a warning, such posts may be edited or deleted at moderator�s

or editor�s discretion; posters responsible may, after multiple such incidents, be gagged or banned at moderator�s discretion.

We do not insist on complete agreement with other posters; we do insist that disagreements be made with an attempt at charity.

If you wish to express disagreements rudely, take it elsewhere.

We are fostering a support

and information

community here, not a flaming debate board. However, there is a private "Debate and Politics" folder for debates that is allowed slightly more leeway than the other folders. Guidelines for this folder can be found in this post.

The Debate folder is a limited-access folder. If you have more than 100 posts and would like access to the Debate folder, please contact one of the moderators.



Words that are in Delphi�s filter are not permitted on this board, nor are acronyms using those words.

Please do not attempt to circumvent this, as such posts will be edited by moderators or editors without warning.

Similarly, posts that are gratuitously graphic or crude will be edited or deleted as deemed necessary.

Because we do discuss NFP, which by its very nature involves sex, we encourage you to consider carefully how to present such questions and information in a clear yet tactful manner.

Charting questions should be posted to the board, not sent to the board moderators. Please know that most of the board members are NFP users with varied levels of personal charting experience; however, there are several certified NFP teachers from various methodologies on board who
can answer technical questions. Represented are: CCL, CrM, Billings, Family of the Americas, Marquette, and various diocesan STM methods.
If there is a problem with the board, please message one or more of the moderators.


To help to control the amount of trolling and spamming on the forum, there is a 24-hour waiting period before new members can make their first posts. You are still free to look arou

nd to get a feel for the place.

Name calling and/or use of foul language will not be tolerated and may result in a temporary or permanent gag on posting at the discretion of the moderators. This may come with no warning and will be decided on a case-by-case basis. Please do not argue with a moderator who has issued a warning against name calling or foul language, or it may result in an

immediate gag.

We ask that you keep signatures to a reasonable size. 


Please defer to the moderators' request without argument and don't take it personally.

Because Delphi has a glitch that causes threads with deleted messages to "haunt" members, which becomes very annoying, we must ask everyone NOT to delete messages. Instead, please use the "edit" function to edit out anything you didn't intend to say, replace it with a joke, or simply the word "edited."

Thank you!

If

you are new to Delphi or have just never read it, please read through Delphi's Terms of Service Agreement. The moderators of this board are not responsible for violations of the TOS by board members, and reserve the right to edit out posts containing TOS violations.

Because the mods can't read every thread with thousands of posts in this forum a day, please feel free to e-mail a mod or bump a thread to one of them if you see a problem developing!
Enjoy your stay!
Adriene (ADRIENE8), Charity (KansasMomO3), Kate (JaMaJo4),
Lori (loriagnes), Maryanne (namegirl), and Michelle (flipmomof3)
Your Moderating Team
Editors/Advisory Panel:
TINA (tgriff3)
SARAH (sarackerma)
AMY (groverc99)
JOHNNA (5xblessedthx)
PAMELA (ponyexpress2)
SUSO (suso711)
AHNA (lutherannfp)
JEN (jenwisc)
LISA (lisalmr)
Thank you to Mary A., our founder and moderator emeritus; and to Debbie, Annie, Heidi, and Betti, moderators emeriti.

---
For a comparison of the different methods of NFP, 
NFP METHOD COMPARISON
Local NFP instructors can be found by contacting the NFP Coordinator in your local Catholic diocese.

If you are not sure who to call in your diocese, you may contact Diocesan Development Program for Natural Family Planning or use the NFP-Only Online Directory.
For information on LAM (Lactational Amennorhea Method) guidelines, see this description by Lee Ann.
For information on using NFP in perimenopause, see this thread for a wealth of information
compiled by Trish.
Mariana's
post
on interpreting CBFM test sticks without a monitor (Marquette Model).
A beautiful
post
from Tom about 
barrier methods.
A comparison between menstrual cups is here.
See
here
for a comprehensive post with information about international adoption.
A sampling of conversion stories.
Thinking of having elective surgery or elective procedures on any part of your body? Check out 
this site
for information!
Do you suspect a thyroid problem? See this post from Ann Marie for a comprehensive list of resources.
If you want any hope of understanding Barbara from Scotland's posts, bookmark this Scottish vernacular website: http://www.firstfoot.com/dictionary

---
---
Board Members' Tried-and-True Recipes, including the famous Pumpkin Muffins.
---
Memorable Debates -- a link to some of our more contentious threads over the years

An excellent post back in 2004 from Ray.
---
---
---
Some Common Acronyms We Use on the Board
AFLAC! = Not an acronym; it's what we yell when an issue is a particular "hot button" for us, and it originated here.
CCL=Couple to Couple League; CrM=Creighton Model; OM=Ovulation Method; TAONFP=The Art of Natural Family Planning; TCOYF=Taking Charge of Your Fertility; LAM=Lactational Amennorhea Method; CM=Cervical Mucus; EWCM=Egg-White Cervical Mucus; O=Ovulation; LTL=Low Temperature Level; HTL=High Temperature Level; SAHM=Stay-At-Home Mom; DH=Dear Husband; DD=Dear Daughter; DS=Dear Son; MIL=Mother-In-Law; FIL=Father-In-Law; AF=Aunt Flo (period); TTC=Trying To Conceive; TTA=Trying to Avoid (conception); TCW=Throwing Caution to the Wind; 2WW=2 Week Wait (between O and AF); PG=Pregnant/Pregnancy; NAK=Nursing At Keyboard; BIA=Baby In Arms; BF=BreastFeeding; NIP=Nursing In Public; AP=Attachment Parenting; LOL=Laugh Out Loud; ROFL=Rolling On the Floor Laughing; IM(NS)(H)O=In My(Not So)(Humble)Opinion; BTW=By The Way; IOW=In Other Words; b/c=because; KWIM?=Know What I Mean?; TIA=Thanks In Advance; HTH=Hope That Helps; TMI=Too Much Information; ROMC=Renew(ing) Our Marriage Covenant (i.e. sexual intercourse); ROMP=Renew(ing) Our Marriage Promises (i.e. sexual intercourse); TASBA=Tab A/Slot B Action (i.e. sexual intercourse); RYMC=Renew(ing) Your Marriage Covenant; BFN=Big Fat Negative (on pregnancy test); BFP=Big Fat Positive (on pg test); POAS=Pee On A Stick; YMMV=Your Mileage May Vary
---
St. Teresa of Avila, pray for us.

You will be responsible for, and indemnify and hold harmless Natural Family Planning discussion board moderators, participating NFP teachers of any method, affiliates, subsidiaries, agents, representatives and licensors against any claim arising from the material you post or that they, in reply transmit. Although moderators may monitor or review discussions, chats, postings, transmissions and related correspondence, and remove participents, the moderators are not under any legal obligation to do so. You acknowledge that the NFP Board moderators do not control the information available on the message board and chat room, and that any opinion, advice, statements, services, offers or other information or content presented or disseminated on any message board or chat room are those of their respective authors who are solely liable for their content. Any communication or material you post or transmit to the Natural Family Planning discussion board is non-confidential and non-proprietary. You assume full responsibility for anything you post or transmit.