This forum is moderated therefore you must post an introductory "hello" to be granted voice in this forum.

Please have your profile filled out prior to posting.


Post a message now.


**Anything that is not SCRC sanctioned MUST be cleared with the administrators.**


Great Rides, Great Fun, Great Friends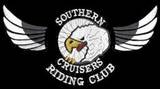 The Southern Cruisers Riding Club "SCRC" is a free,
family oriented motorcycle riding club that uses the
Web to communicate and focuses on the enjoyment
& fellowship of riding motorcycles while doing so safely.


A club for family, friends and all brands of motorcycles.


Club Calendar
SCRC 334 Photobucket
Riding Rules
Chapter Officers - Forum Administrators


1st Officer - "Fast Eddy" Marson
ebmarson@gmail.com



2nd Officer Brian "Btown" Pont

btownscrc@gmail.com