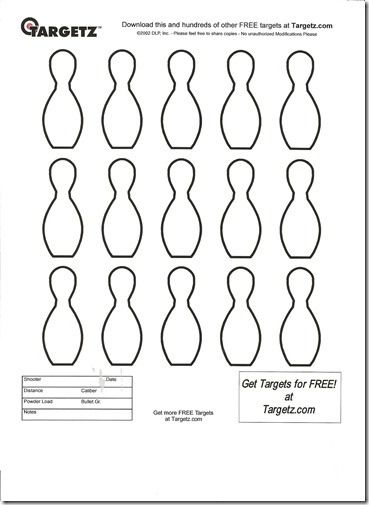 August 2010 e-Postal Match!
August 2, 2010
For those of you that have shot them before, you know that bowling pin matches can be a lot of fun.
In a real bowling pin match, the clock doesn't stop until you have "cleared" the table — that means you can't just knock the pins over you have to knock all the pins off of the table.
Since we can't use a timer and these are only pictures of pins, we will use a different scoring system.
Distance: 
Handguns — set the targets no closer than 15 feet/5 yards or as close to that as your range allows.  

Rifles — no closer than 10 yards.
This target has 15 bowling pins and you are allowed 15 shots (1 shot per pin).
For each shot that hits in the white portion of the pin only, you can consider that pin knocked off the table and worth 5 points.
For each shot that hits a pin but touches anywhere on the black outline, consider that pin NOT knocked off the table and give yourself only 3 points. A miss is a zero.
Something tells me we will have a lot of .22 LR entries. 
For you rifle and distance shooters, calculate your score by using a multiple of 1 for each increment of 10 yards that you shoot beyond the 10-yard minimum. So, if you are shooting at 30 yards — use a multiple of 3. If you are shooting at 50 yards, use a multiple of 5 and so on.
You can download it from Targetz.com. It is target No. 20023 on page 2 of their "Fun" targets: Download Now
| | |
| --- | --- |
| Firearm | Class |
| Handgun | Class I: Rim fire with iron sights |
|   |   |
| Handgun | Class II: Rim fire with optics |
|   |   |
| Handgun | Class III: Center fire with iron sights |
|   |   |
| Handgun | Class IV: Center fire with optics |
|   |   |
| Rifle | Class I: Rim fire with iron sights |
|   |   |
| Rifle | Class II: Rim fire with optics |
|   |   |
| Rifle | Class III: Center fire with iron sights |
|   |   |
| Rifle | Class IV: Center fire with optics |