Holiday Gift Guide: 15 Great Accessories for Your Shop
by Shooting Illustrated Staff
15 Nov 17
One of the great pastimes of gun owners is the ability to tinker and improve upon their firearms. Give the gun lover in your life the chance to clean, maintain and upgrade their firearms with these great tools and accessories. Each item in this list was selected from the wealth of new products introduced by the firearm industry over the last year, so you're sure to find something in our holiday gift guide that interests the gun owners who have everything for their shop.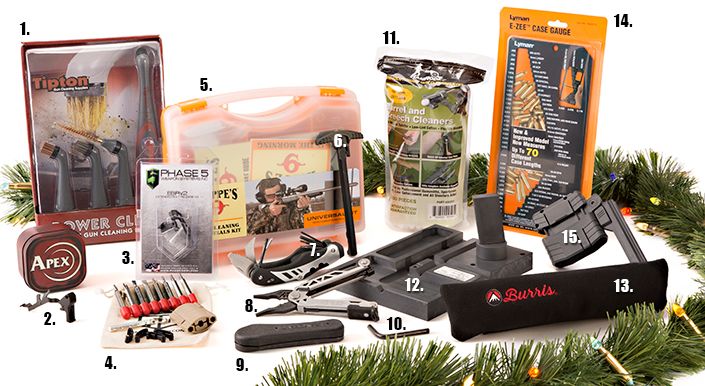 Holiday Gift Guide: For The Shop
1 | Tipton Power Clean Brush
The Power Clean Electric Brush Kit from Tipton makes cleaning guns faster and easier than ever before, allowing for a thorough, deep scrubbing of every gun with 3,600 oscillations per minute scrubbing power.
MSRP: $47.99
2 | Apex Tactical Trigger
Offered as a direct drop-in replacement for the standard Walther PPQ trigger, Apex's Flat-Faced forward set trigger and tuned trigger bar reduce pre-travel, overall travel and reset. Fit is for the PPQ M1 and M2 in 9 mm, .40 S&W and .45 ACP.
MSRP: $129.95
3 | Phase 5 EBRV2
The Extended Bolt Release V2 (EBRV2) offered by Phase 5 enables a speedier reload as well as efficiently clears jams while minimizing hand movements. It's manufactured with a stringent nine-stage process that guarantees ultimate dependability from this rugged component. The user can fit the EBRV2 to almost any AR-15 5.56 NATO/.223 Rem. combination of lower and upper receivers.
MSRP: $49.99
4 | America Grip AR-Fore-end tool
Ever needed to tighten a scope mount out in the field, except that Torx wrench wasn't in your tool kit? With the America Grip tool, up to eight standard 2-inch bits are always available. With two or four sections available, and two tools per section, there's a wide variety of screwdriver, Torx and Allen bits at the ready.
MSRP: $24.95
5 | Hoppe's Gun Cleaning Essentials Universal Kit
This 28-piece, all-in-one kit contains everything shooters need to keep their pistols, rifles and shotguns, clean. A mat, storage case and instructions are also included.
MSRP: $39.99
6 | Blackhawk AR-15 Charging Handle
Available in a variety of colors to match today's palette of AR-15 furniture, the new Blackhawk no-latch-design AR-15 charging handle uses an ambidextrous control point to facilitate recharging of America's rifle. An oversize polymer gripping surface keeps weight down while offering plentiful purchase.
MSRP: $39.95
7 | The Gun Tool by Real Avid
Built for field maintenance of longarms, this compact, ergonomic multi-tool contains 18 of the most common tools, including a universal choke wrench, pin punch for removing trigger groups, various Allen and Torx wrenches and a magnetic bit driver.
MSRP: $24.99
8 | Gerber Center Drive Multi-Tool
Gerber's new Center Drive puts much-needed tools at your immediate disposal: a standard-blade knife and bit driver can be accessed while the Center Drive is fully closed, and the pliers/wire cutters open by sliding the mechanism forward. Other vital tools are also included.
MSRP: $119
9 | Limbsaver Tactical Pre-Fit Recoil Pad for Magpul Buttstocks
The Magpul Stock Recoil Pad from LimbSaver is constructed from latest Noise and Vibration Control Material (NAVCOM) that is engineered to absorb and dissipate energy and vibration. This proprietary technology helps maintain maximum stability while increasing follow-up shot accuracy.
MSRP: $41.99
10 | Brownells AR-15 Pivot Pin Detent Installation Tool
This tool prevents the loss of detents by guiding the detent into place, allowing each to be compressed inside the receiver before serving as a slave pin long enough to install the pivot pin.
MSRP: $15.99
11 RamRodz Barrel and Breech Cleaners
RamRodz Barrel and Breech Cleaners are revolutionizing the way we clean our firearms. Made from industrial-grade cotton and strong, flexible bamboo handles, each cleaning rod will expand deep into the rifling grooves effectively removing fouling while soaking up excess solvent, eliminating drip or spatter.
MSRP: $12.95
12 | Present Arms 1911 Armorer Plate
This tool is a must-have for any 1911 build. It supports various components in assorted pockets and parts trays during gunsmithing and maintenance sessions. A magazine post and swivel are included, as well
MSRP: $129.95
13 | Burris Microfleece Waterproof Scopecover
Protect your expensive investment with a Burris Microfleece Scopecover. It keeps out moisture and dust, prevents fogging and the soft material helps stop scratches and dings.
MSRP: $16
14 | Lyman E-ZEE Case Gauge
Assure yourself of proper case length for a host of chamberings with Lyman's E-ZEE Case Gauge. The metal gauge accommodates more than 70 different pistol and rifle calibers, and will quickly and conveniently allow you to sort brass with confidence prior to cartridge reloading.
MSRP: $23.75
15 | Butler Creek AR-15 Magazine Loader
Speed up AR-15 magazine reloads and save thumbs with this magazine loader, which provides three different loading methods with its easy-to-use push-load mechanism and loading arm that holds 10 rounds at a time.
MSRP: $29.95