Gift ideas continued here: Gifts of firearms and shooting goodies 2
____________
Be sure the person to be gifted is entitled to gun ownership (no problems with their legal right to own a firearms), buy it and give it as a gift, everything should be fine. If in doubt, check your state laws. Handguns may require more paperwork than rifles or shotguns. Giving a used gun from your collection is easier and involves less paperwork/expenses than buying a new one. It is also much easier to give the gun in person than to ship it, especially to a different state.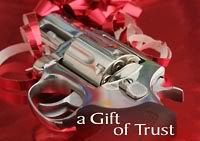 __________
And a Cartridge in a Pear Tree
From "On Target," by Dick Metcalf, in the November/December 1992 issue of Handgunning, published in Peoria, Illinois. Metcalf is the magazine's Outdoor Editor.
http://www.harpers.org/AndACartridgeInAPearTree.html
Every year as yuletide rushes in I get frantic inquiries from readers asking about the legality of giving handguns as gifts. Most of these folks are just like me: they don't get around to their Christmas shopping until it's almost Christmas Eve. So when they run into the legal tangles surrounding firearms transfer, they don't have time to find solutions before Santa's big day.
The process can be very complicated and time-consuming, and in some particular state and local jurisdictions it is, sadly, close to being not worth the trouble. The most unfortunate thing from the Christmas-gift point of view is that the legal requirements surrounding firearms transfer make it nearly impossible to give someone a gun as a surprise. Santa can't just leave it under the tree: he'd be committing a federal crime.
First let's deal with firearms gift-giving between residents of different states. The crux of the issue is this: legally you cannot just buy a handgun, wrap it up, and send it directly to a friend or relative in another state as a Christmas present. The federal Bureau of Alcohol, Tobacco, and Firearms — having learned its trade at the knee of Ebenezer Scrooge — has no holiday spirit at all when it comes to firearms gifts. But there are ways to legally circumvent this general prohibition if you want to take the time and effort.
Let's suppose you live in Arizona and want to give a .22 target pistol to your father, who lives in Illinois. The first thing you would need to do is contact a licensed gun dealer close to your father's residence — Dad's favorite gun shop would be ideal. Find out if the dealer would be willing to process the necessary paperwork to accomplish a legal transfer.
If the dealer in Illinois agrees to help, you would wrap up the gun and ship it to the Illinois dealer. All your father would then have to do is go to the dealer, complete the necessary federal and state forms, go through all the necessary procedures governing handgun transfers, and then — finally — take the gun home.
Obviously, all this makes it impossible to surprise your father with a nicely wrapped package under the tree — unless you were planning to be at your dad's house for the holidays. Then you could buy the gun in your home state, give it to him as a wrapped present on Christmas morning, and afterward go to the local gun shop with him to get the ownership of the pistol legally transferred from you to him. Of course, if there is a waiting period involved, your dad would have to twiddle his thumbs through the Second, Third, and Fourth days of Christmas before he could go back and actually pick up the gun. Bah, humbug.
So far we've been looking at the gift of a gun to an adult. What happens when Dad and Mom want to give young Johnny or Mary Sue his or her first target pistol? Nearly all states have statutes establishing minimum ages at which youngsters can legally possess guns as their own personal property. In some states it's as low as twelve. Some states require that minors carry firearms only when accompanied by their parents or other responsible adults. If you are unclear about your state's laws on this subject, check with the state legal authority.
Here's the bottom line: there is nothing in any federal, state, or local law that actually prohibits you from purchasing a firearm for the purpose of transferring it as a gift to someone else. But the procedures involved can be so very damned complicated as to take nearly all of the fun out of it.
Oh, well.
Have a merry Christmas anyway.