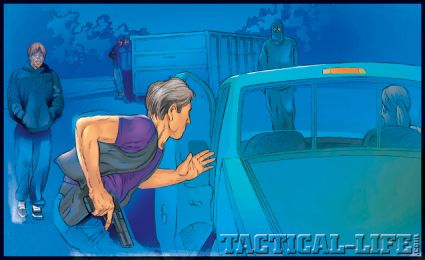 Parking Lot Predators
Situational Awareness, Training and Concealed Carry Even Out the Odds!
Survival Savvy by Danny O. Coulson
Combat Handguns » September 2009
In the spring of 2007, my wife and I drove from home near Fort Worth, Texas to visit family in New Orleans. I carried a CAR-15 in the trunk of our car, secured my Heckler & Koch P-7 in the glove compartment and armed myself with a vintage Browning P-35, my weapon of choice since serving on the Hostage Rescue Team (HRT).
Our journey to Louisiana was uneventful and our return on a warm Sunday afternoon started as a leisurely drive until the Dallas/Fort Worth area on I-20. My wife wanted some bottled water. I pulled into a service station on the north side of I-20. We had fuel, so I bypassed the pumps to park and run into the mini mart.
As I pulled past the pumps and store entrance, I noticed a bandit barrier protecting the cashier. My antenna went up: There was enough concern over robberies to protect their employees. Better be alert.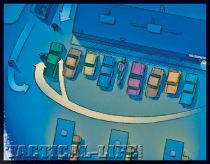 Be Alert
With no parking near the door, I pulled to the far left end. I noticed a dumpster just to the far left of the building. Leaning against it was an individual wearing a dark hooded sweatshirt. His arms were crossed and he watched us intently. "Better watch this one," I thought. "Too hot for a hooded sweatshirt."
I nodded toward the dumpster and under my breath said to my wife, "I don't like that one." We entered, purchased water and exited the front door to return to our car. I took my wife's arm and steered her toward the center of the lot, toward the pumps, not along the sidewalk. I wanted space for time to react if necessary.
Our route to the truck was a gentle arc, letting me visually cover most of the parking area. Using the sidewalk between parked cars and the mini mart would have been seriously impeded my ability to see a threat before it was upon us. Training and experience have taught me to rapidly close with an opponent in a CQB (close quarter battle) situation and give him little time to react.
In the HRT, our CQB philosophy was "speed, surprise and violence of action." We always wanted to launch rescue operations as close to the subjects as possible to maximize our tactical advantage and firepower. Were I to be attacked I needed to reverse that, to gain space and time, and rely upon my firearms skill to prevail.
As we approached the car, the individual still stood by the dumpster, arms still crossed, watching us intently. His gaze did not leave us as we approached the car. I opened the passenger door and told my wife to get the pistol.
I walked behind the car and thought for a second about retrieving the CAR-15, but did not because I had not been threatened and did not want to alarm customers. But suspicions would change to threats in seconds.