Welcome
Welcome
The Linux Cafe is for Linux gurus, novices and the curious alike! And entails far more than you might think.
Operating systems such as Chrome OS, Android, WearOS, Tizen and many others. In fact, unless you're
specifically running a Windows-based machine, chances are you're running Linux in some
form or fashion. From your computer to your tablet to your smartphone and right down to your
favorite wearables, chances are they have the Linux kernel at their core.
So come, join us, and see the world of Linux through new eyes!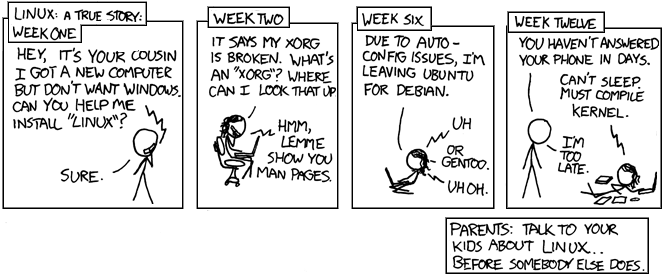 This really is a true story, and she doesn't know I put it in my comic because her wifi hasn't worked for weeks. [
From XKCD
]
Host: mrcrossroads

Assistant Managers: Chris

RIP Gary, we miss you
---
---
---